This is an introduction course to entirely new (2019) digital capabilities management model, targeted to collaborative management of internal IT departments, supporting organization's wide digital transformation efforts and to support artificial intelligence in managing IT as a complex, ever adapting system
Course length:          1 day
Price:                           668 EUR  558 GBP  760 USD  985 CAD    including cert. exam (VAT excl.).
Dates and places:    View the course calendar on our web page.
Prerequisites:           no pre-requisites.
Target group:            CIO, IT manager, team leader, IT governance experts, ITIL Experts
Literature:                 DCMM: Digital Capabilities Management Model ISBN: 9781723571923
Management course overview – white paper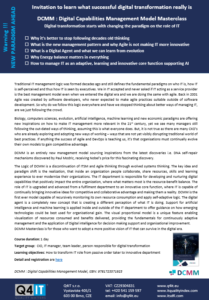 Course details for download in PDF are here.
Course learning objectives: Learn participant new management model discontinuing service management logic. Course participants will understand key differences between service economy logic and collaborative model, where driving motivation is minimized administrative overhead, flexibility, sharing of resources and maximized benefit measured on the organization level. Internal DCMM logic is designed to support machine learning, machine supported decision making and artificial intelligence.
Course agenda – 1 day:
The logic of ITSM and its consequences – customer versus colleague
Context of Agile – roots of agile and its characteristics, external logic
Management patterns – forming behaviour of people and impact on ways of working
Key attributes of collaboration inside an organization
Digital capabilities management model components
Principles – driving how we respond in situations
Activities and stories – ability to handle uncertainty, key component of learning. Activities and stories – support of artificial intelligence.
Digital agents and capabilities – digital intelligent agents, self-managed and self-monitored system. Built-in learning and autonomy.
Techniques – CVC, ADRA, RBA. RBA as a learning force, allocation of resources to innovations and experimenting
Additional information:
The course is an initial overview of the new book Digital Capabilities Management Model, DCMM, ISBN: 9781723571923
DCMM is not based on ITSM logic or Agile thinking.
Course participants will gain confirmation about passing the course, exam at the end of course
Online registration – for online courses get 35% discount, promocode DCMM-35