85% of drivers believe, that they drive better then average. Over estimation of own capabilities is common to all human activities including IT. With this information in mind, "self-assessment", internal audits, can be hardly perceived as objective information about IT quality.
How good is our IT ?
Do we manage our IT in line with best practices ?
Do we improve or stagnate?
Do we spend IT budget efficiently ?
Do we deliver IT services in quality and cost anticipated by business ?
Where are greatest opportunities for improvements ?
How IT quality compares to other IT departments ?
Are we better then others ?
What skills do we have in IT ? – SFIA
Q4IT delivers quality assessments based on IT Quality Index framework.
Compatible with ISO 20000 :2011  – the globally most accepted standards for IT Service management
It does not use Yes/No statements, but multi scale assessment adjusted to company profile is used
Key attributes are scalability from detail level, depth of check, processes and services selection and management levels inclusion
IT Quality assessments are delivered by Accredited IT Quality Expert – AITQE.
Results of audit are always concrete and pointing to specifics with recommendations on how to resolve identified issues
Result of audit is compliant with ISO/IEC 20000, therefore they might be also used as a preparation for certification
Can be used for benchmarking between IT departments or compare IT organizations
Provides IT Quality certificate which clearly stated quality levels
We also provide consultancy service to introduce IT Quality Management System – IT QMS
Define process and responsibilities
Define role of Quality Manager
Create Visual Proportional Board where improvements are managed
Report improvements and benefits delivered to the organization
Map quality management practices into COBIT 5, APO11 Manager Quality, Establish a Quality Management System
SFIA skill codes QUMG, MEAS, SURE, QUAS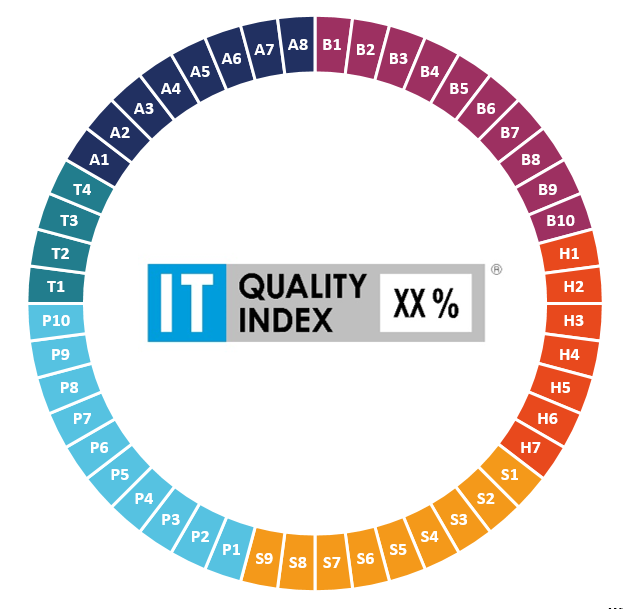 Picture Copyright Q4IT Limited 2018