IT quality management framework
"How good is your IT ?" – crucial question answered by IT QUALITY INDEX framework.
IT QUALITY INDEX is IT quality assessment framework, which is used for quality assessment in different types of IT organizations. It is respecting all major best practices frameworks and norms. Provides a consistent and repeatable tool for IT quality assessment and benchmarking in time and between organization. IT QMS is intergarl part of the model, supporting COBIT 2019 APO 11 Managed Quality.
IT Quality Index fundamental parts:
Body of knowledge – book
Trainings
Consultancy services
Free download graphical overview of IT QUALITY INDEX framework in PDF here.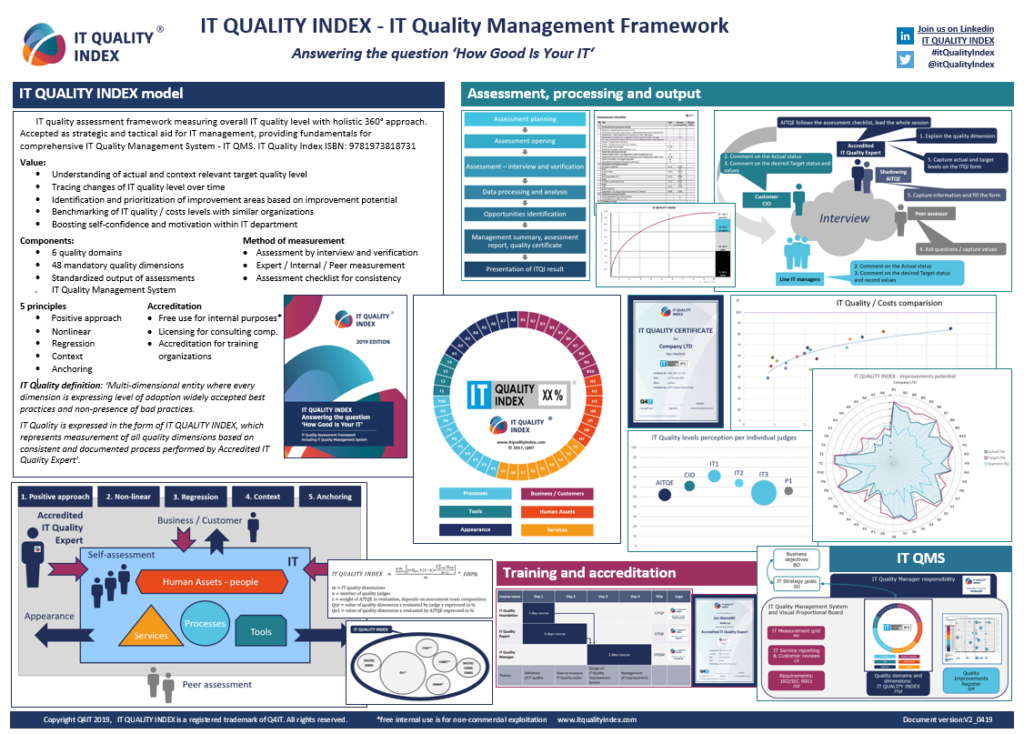 The book IT Quality Index is available on Amazon, ISBN 9781973818731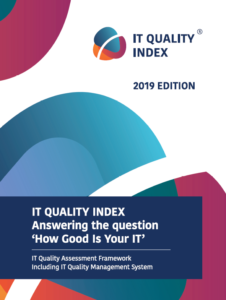 Prezentation recording from SDI show, IT Quality Index explained
You can find more details about IT QUALITY INDEX on the website here.
IT Quality Index listed in SFIA referenced Bodies of Knowledge here addressing SFIA skills
QUMG Quality Management
QUAS Quality Assurance
MEAS Measurement
CORE Conformance Review
IT Quality Index directly supports COBIT 2019 APO11 Managed Quality process
Book reviews:
B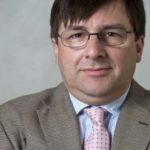 arclay Rae, Great Britain: "The IT Quality Index model looks comprehensive in its' coverage of a cross-section of IT activities. As such it provides an excellent 'balanced scorecard' to benchmark and assess the performance of the IT organisation across a number of areas – beyond technical and process. The focus is very much centred around outcomes, with a clear link to understanding the origin and reasons for these. This is a very useful toolkit for IT organisations and their leaders. The assessment process is also thorough and should help to build up a good means of ongoing measurement and service improvement for enterprise IT departments."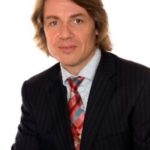 Harold Petersen, Australia: "The IT Quality Index is refreshingly 'simple' in terms of its holistic domain model, its approach and presentation of outcomes. The presentation of outcomes make sense on executive level and really seek to answer executive business questions about the general state of IT in their organisation and what can be improved to better enable the business. At the same time the IT Quality Index is built upon a comprehensive IT Operating Model, leveraging globally accepted frameworks for enterprise IT Management and Governance. This enables diving deeper upon analysing and questioning aspects of the executive outcomes of an IT Quality Index assessment. If the right stakeholders participate in an assessment, the IT Quality Index will provide transparency, the ability to understand where we are now at a glance and drive prioritised improvements in a pragmatic fashion."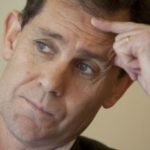 Paul Wilkinson, Netherlands: "A solid, well-constructed approach driven by customer organizations asking the question. 'How good is my IT'? Why a new quality approach? There are many frameworks and assessments already in the market? The book gives a good argument for the strengths and weaknesses of existing approaches. I like the fact that it doesn't focus on 'best practices' but also looks at 'bad practices' and more importantly 'Right practices'. Another plus for me is that the approach doesn't just focus on a 'maturity level' of a process or practice but also has a chapter on 'Value of improvement' which is a current weakness in the ITSM landscape – the difference between improvement for the sake of improvement, and improvement aimed at delivering business value, which is something the business is demanding more and more as IT becomes a critical enabler for the latest industry trend of 'digital Transformation'. The book not only gives the areas and processes to be assessed but also set of guiding principles, roles and tips for using the approach which is backed up by training and accreditation."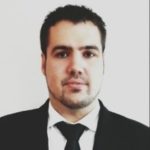 Luis Alonso, Mexico: "IT Quality Index is the perfect way to reflect the overall IT Quality into a business context. It will allow your company to identify the bad practices that affect the correct performance of the IT department. This framework provides you the platform for a complete assessment in a 360 degree view around your organisation. It will give an easily understandable view of the current state of the IT department and will let you compare your quality level with other IT departments in similar organizations. IT Quality Index will help IT Managers understand where they are and what is the next step to improve IT Services. In my opinion, it could be considered a must read for every IT Manager."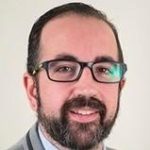 Luis Garcia Menendez, Luxembourg: "The IT Quality Index provides a framework to assess the quality of an IT organization. How can you improve the services you are providing? Only if you can measure them. Using this framework you can set up a baseline on how your IT organization is performing. From there you can define the right actions for improvement and control their success by measuring them over time allowing you to see the improvement. Being able to show in a tangible way the improvement of a service allows to remove the perception which often shows more emotional and less factual view of an IT organization.
The IT Quality Index takes into account in a structured way all the different components which are important to define the performance of an IT organization in a customer centric way. Service must show value to a customer and this value could be different from customer to customer. This framework covers this due to its customer centric approach. The most important KPI's in order to agree the correct SLA's are not the commonly generic ones often used but the ones which are important for the customer. This is way a customer centric approach is so important and this framework covers it. It is not replacing best practices but allowing you to measure in order to see the evolution of the improvements put in place."
#itQualityIndex #itQMS #itQuality