Free Webinars
---
DCMM Digital Capabilities Management Model overview
45 minutes webinar – per request
DCMM – Digital Capabilities Management Model is a radically new management model designed to support CIOs with their organization's digital transformation pathing the way for success in a new era by providing the "what" not just the "why". It offers entirely new thinking that will help you manage complexity, a speed of change and uncertainty in the digital world.
Registration below
Recording 04/2020 is here
---
IT quality index overview 
45 minutes overview – per request 
"How good is your IT ?" – crucial question answered by IT QUALITY INDEX framework.
IT QUALITY INDEX is IT quality assessment framework, which is used for quality assessment in different types of IT organizations. It is respecting all major best practices frameworks and norms. Provides a consistent and repeatable tool for IT quality assessment and benchmarking in time and between organization. IT QMS is integral part of the model, supporting COBIT 2019 APO 11 Managed Quality.
Presentation from webinar 8 November 2019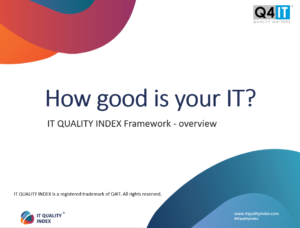 Registration for free webinars.