Should digital transformation happen outside IT?
Since the early 1990s internal IT departments have been adopting new technologies to digitize existing business processes. IT management started to evolve using a process focus, where consistency and efficiency meant fast incident resolution. Later, IT moved on and elevated its capabilities to provide business services, the focus was shifted towards the delivery of IT defined services that meet "customer" (understand business) requirements. In the last 20years agile has disrupted traditional IT management with a prioritization of speed, responsiveness and time to market. In the early 2000's e-banking and e-commerce held a competitive advantage; speed and continual delivery of software developments was the competitive advantage moving quickly to meet changing needs. There has been no significant modernization of IT management in the 20 years that have passed since this new paradigm was created, but the change in our world has accelerated – AI, complex self-managed systems, exponentially complex security, the need for exploration and innovation became the driver of digital transformation. Yet IT management has remained stuck in the past, acting as a separate organisation, expecting that the rest of the business will bring their requirements. As we enter 2021, IT management must radically change once again to meet the new reality we all now face.
Today problems:
IT is approaching the business as a customer, adopting a passive role.
Finding innovative idea's is enormously complex, high risk and resource demanding, yet IT does not. see their role in delivering its benefits to the organisation.
IT management overhead is largely ignored, IT is self-centric, they do not consider the business context of their activities focusing on tasks which are unimportant to the business creating a perception of high cost, little return.
Service logic became has obscured the more strategic role of IT departments.
Digital transformation requires redefinition, the questions of; What is IT, what is IT's role in digital transformation have, until now, been left unanswered.
Adopting the DCMM model means the following.
IT will act as a neural system within the organisation.
IT is positioned as an enhanced digital capability function.
IT will become a source of continual innovation.
IT focus, will be on knowledge work to support organizational growth.
Management complexity is greatly reduced, freeing up resource and increasing business agility tenfold.
Digital agents (algorithms, digital employees) are recognised as a critical asset, managed by IT.
The evolution of IT management is described in the next picture, and DCMM is the next stage in that evolution, where IT is an active participant in successful business transformation.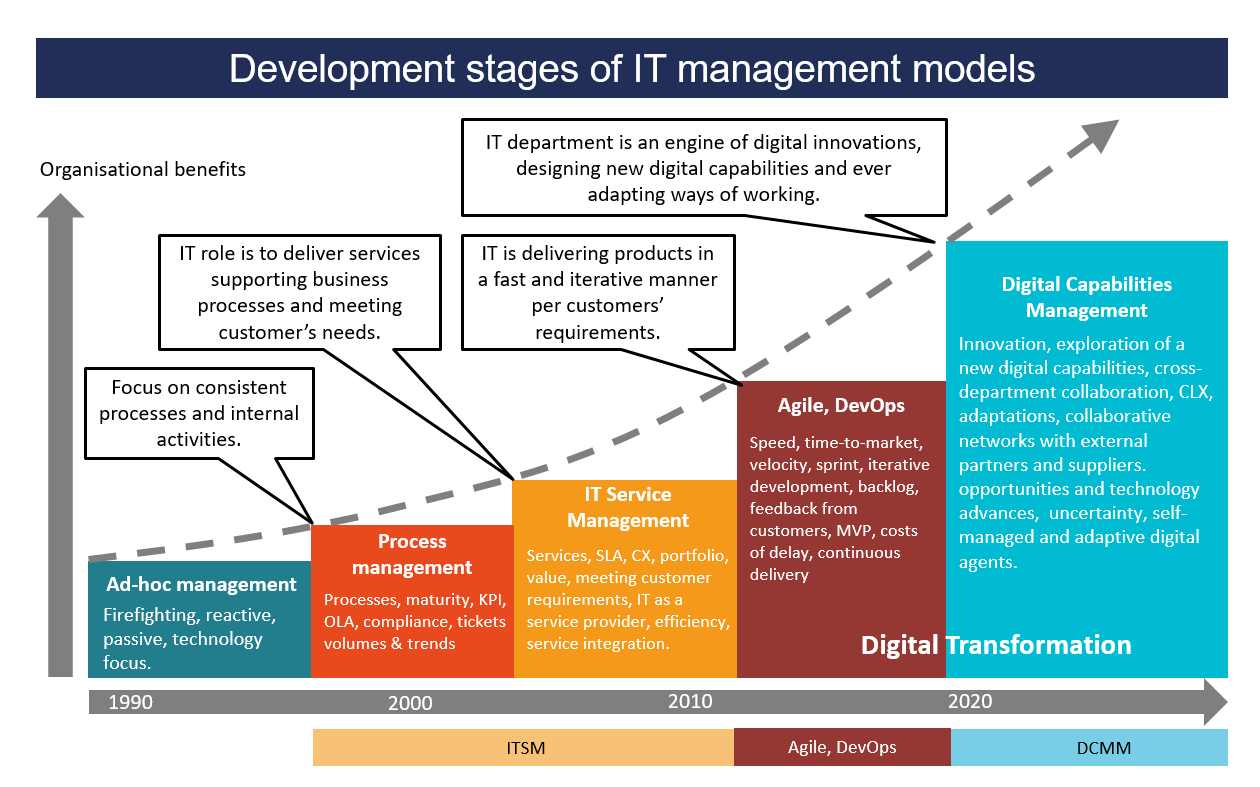 DCMM : Digital Capabilities Management Model is comprehensive model documented in book, ISBN 9781723571923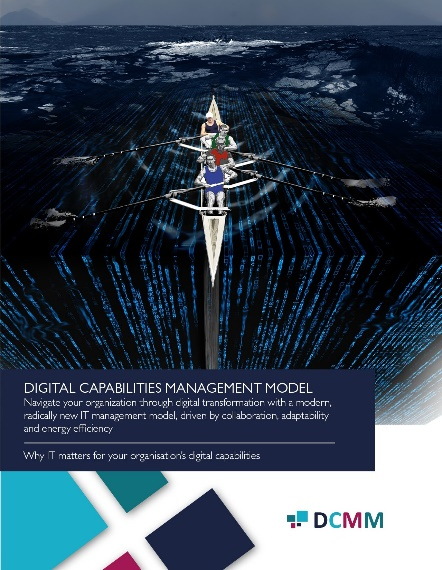 #CIO #DCMM #Innovation