Future of work series: Managing Knowledge Worker Quality
Course and associated workshop will equip managers and leaders with the required knowledge to be successful in the management of knowledge workers and creating teams of achievers in the modern era.
Course length:  2 days including certification exam
Overview: This course covers the management of new and emerging roles known as knowledge workers. It prepares you with a diametrically different approach to that of managing repetitious process driven activities (industrial era management and KPIs). This course will help you develop new management practices and quality measures that will ensure success. Learn how to adapt to the future of work.
Target group:  The Managing Knowledge worker Quality course is suitable for IT managers seeking new and modern methods fit for the future of work, engaged in digital transformation efforts and also for IT departments, where the role of IT is being developed beyond the cost focused service delivery model.
Course details are here: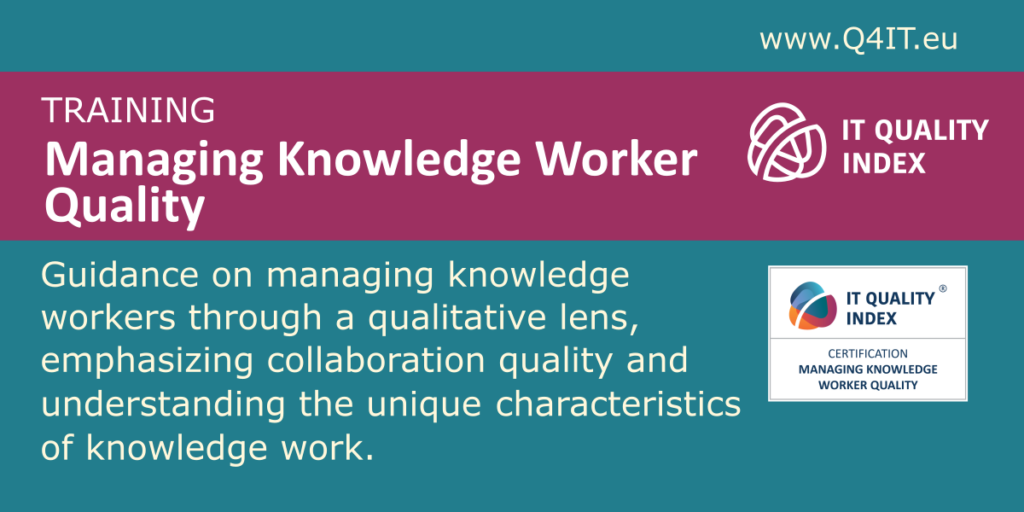 Managing Knowledge Worker Quality is extension to IT Quality Index serie of trainings: